Sheena Bora Murder Case Explained Simply
Sex, debauchery, betrayal, lies, murder, sex, possible incest; we can go on and on listing reasons why the Sheena Bora murder case interests all of us. But, who is who and why and how did it affect them after the murder confuses most of us. We have therefore come up with a hierarchy table that can help you figure out some part of the mystery.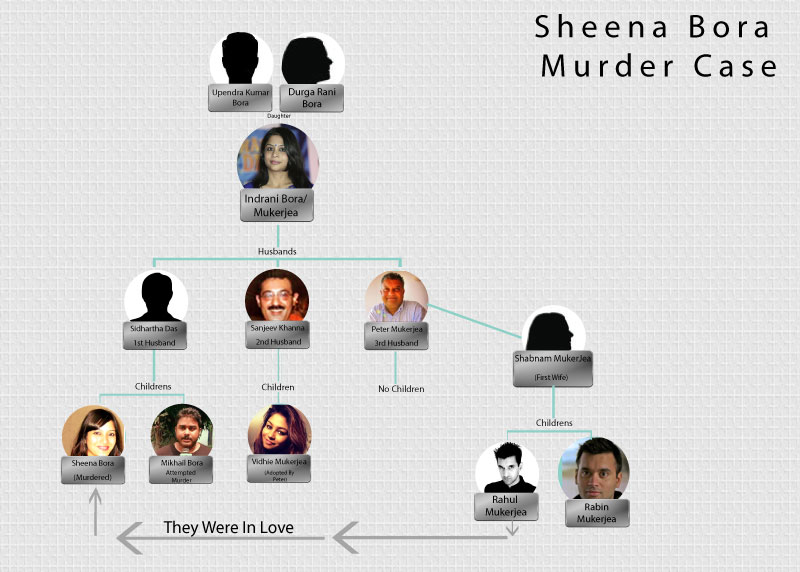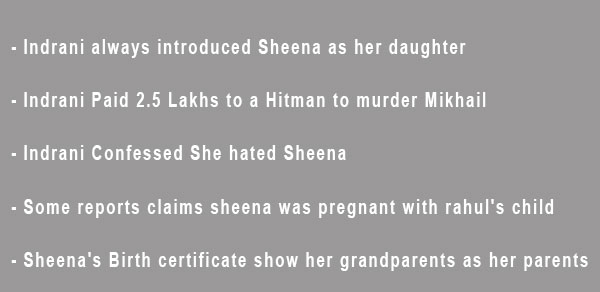 Here are some of the crucial highlights about this sensational murder case that has shocked and shaken the collective conscious of the nation

.
A mystery caller tips off the police about Sheena's possible death
The police start an inquiry and find Indrani Mukerjea guilty.
Indrani, Sanjeev Khanna (ex-husband) and Shyam Rai (driver) arrested for allegedly murdering Sheena Bora on 24th April, 2012.
Things take a shocking turn when it's discovered that Sheena was actually Indrani's daughter from her first marriage and not her sister as apprised in the society by her.
Indrani (prime accused), blames Khanna for the crime.
Khanna, on the other hand, claims Indrani told him that their daughter Vidhie was in danger as Sheena and her brother Mikhail planned to murder her. He also said she (Indrani) promised to split Peter's fortune with him after murdering Sheena.
Peter Mukerjea expresses shock and hurt after knowing about "Indrani's reality". He maintains that he had no idea about her past or his in laws.
The motive for the murder seemed to be Sheena's relationship with her step brother Rahul Mukerjea.
Mikhael Bora discloses his and Sheena's stressed relationship with their mother (Indrani). He mentions about a hit man being hired to kill him as well.
A definite motive for Sheena's murder is yet to be established.
Indrani has confessed she hated her daughter Sheena
Surprisingly, she still maintains that Sheena is in the States.
The Mumbai police, on the other hand, have already found the skull and bones from the site where she was burnt and buried after being murdered.
Several from the elite class sound bewildered and anxious even today since they have witnessed a different side of Indrani.
In the first presentation of the accused in the court; reports claim Indrani was a sorry picture with bruises and a swollen face. Vidhie broke down after looking at her mother.
The media collectively feels that if the police follow the money trail between Peter and Indrani during the time of Sheena's murder; a lot of puzzles can be solved.
The latest update as of 3rd September 2105 is that Indrani has cracked under the pressure and confessed to the crime.
Her first husband Siddharata Das disclosed Indrani left him for a better life. He also informed the police that Sheena was regularly in touch with him.
Sheena Bora murder case is one of the most high profile thunderbolts that the country has witnessed. While most are passing personal and lewd judgements about a mother who killed her own child; there's also a side that's trying to analyze the role of class and overriding ambition of a woman who dreamt big and got sucked into it beyond anyone's reach.  It's also strenuous to exactly define Mikhael's role; here's a guy who took money from his mother every single month and is now out to fight for his sister after she went missing for three years; it's quite bizarre. Rahul Mukerjea has confessed that he possessed Sheena's passport; how did Sheena shift to the States then? Apparently she had two passports. And most importantly a man who lived with his wife for fifteen years; avows that he knows nothing about her past or what she had been up to all these years. Too many questions and abundant pending answers; for now the police are trying to identify the primary motive behind this heinous crime.  Whether it was money, power or both; Indrani Mukerjea has definitely given Lady Macbeth a run for her money!
Cover Image : HeyNorthEast