Disturbing Coco-Cola Honest Logo
We all love a sip of Coco-Cola from time to time. While most of are aware of how dangerous it is; some of us are still addicted to it. Take Fabio Pantoja for example, a self confessed Coco Cola addict, and his life is severely dominated by this drink. Having the drink very often can have terrible impact on your system and so he designed this Coco-Cola Honest logo with a very dark twist. After the infographic on Coco-Cola that went viral recently, Pantoja's Coco-Cola honest logo is creating waves and awakening around the world. Every letter in the logo depicts an organ in the body that is damaged by drinking excess soda.
What's surprising is that everyone's targeting Coca-Cola for being unhealthy and yet we haven't heard a word from the company. The company has made no attempts to defend itself or clarify on the matter. The silence could either mean that they don't know about this yet, or they have decided to keep mum or even worse, they don't care! Well, whatever the matter is, suck infographics aren't just exposing the brutal truth of this soft drink, but also tarnishing it's image in the market.
An excess of anything is bad and these images prove why. If you are a serious Coca-Cola addict, it's high time you gave this a look and took the hint. You really don't want to mess up your body the wrong way!
"More than a critic to CocaCola, it's a critic to myself, to see if I can finally stop drinking this poison once and for all!" he says.
The Coco-Cola honest logo is a big eye-opener for every person who cannot do without this soft drink. Have a look.
1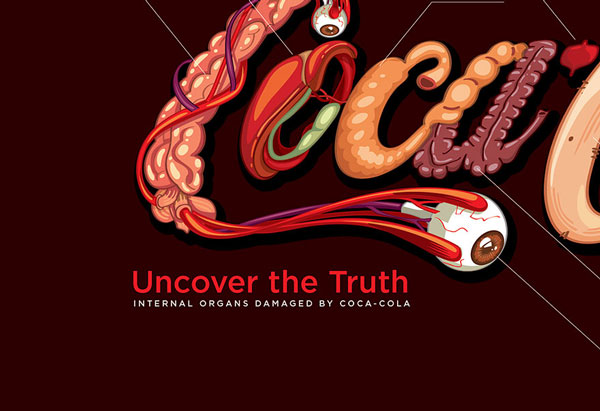 2


3


4


5

Share it and spread this much needed awareness!
You can follow Fabio Pantoja's work at Behance Facebook Twitter
You may also like Turkey's Coca Cola Ad does a Kolavari Di.