Tillana Desai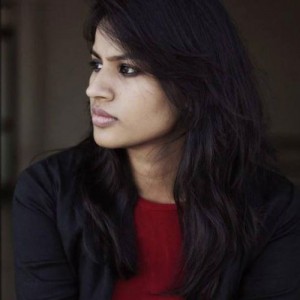 It's so idiosyncratic when you grow up with someone, watch them perform, pat their backs when they excel and then all of that is just lost in time one day. Then, after a couple of years you watch the city/state/country celebrate an artist and you discover it's the same person you grew up with. My relationship with actor Tillana Desai is one such example. We were together in college for two years (she left after that. Today she's a masters in Development Communication and ranked in the university throughout) and five years later, today, I sit opposite her sipping over a horrible mojito. Nothing's changed about her; I don't see fame or success spreading its wings in her persona making her somebody I cannot identify. She's still the crazy girl who wrote "Please Give Me Food" on my T-shirt on scribbler's day in college. And yet, there is something alluring about the way she has evolved as an actor in Gujarati cinema.
"When did you fall in love with acting?" I ask her. She was brilliant in college, but I genuinely didn't know when she started taking it seriously.
"You know I used to be alone with my younger sister at home when I was a child since mom and dad worked. I used to stand before the mirror and make faces, express, imitate and all those things. So perhaps I was meant for this. But it wasn't really a part of my conscious career option list. In college everyone appreciated me and started taking me seriously and that's when I thought, okay well, I can pursue this; Paaghdi followed soon. But it's only while shooting for Paaghdi that I genuinely fell in love with acting. That's when it hit me that I cannot only pursue it, but also excel at it!"
"That's essentially how you fell in love. Soon after Paaghdi, you did a lot of theatre. How did that happen? Usually people move from theatre to movies; you are juggling both!" I ask her.
"Shaunak Vyas, the director of Koi Pan Ek Phool Nu Naam Bolo To saw my eyes in a photograph and thought that I had really expressive eyes. He offered me the role, but I was busy shooting for the film. That man waited four months for me and then I called him and said I was ready; we started working the very next day. Shaunak Vyas is my mentor. There is no role he cannot pull off with panache. He introduced me to the world of theatre and I have done several plays since then. Theatre is quite different and way more challenging and complicated in terms of the energy and hard work it demands out of you. I enjoy working in films and theatre both." She smiles.
"What kind of roles do you pick? What attracts you about the characters you play?"
I am extremely picky about my roles. I CANNOT stand on the stage or on screen as a pretty little doll doing nothing. I do not allow anyone to objectify me.
"So the roles I pick are usually meaty. The kinds that people can relate to, especially women and the kinds that doesn't present my gender under a negative light. There was a time I got selected for the Miss India contest from Ahmedabad and I thought Wow! I was told I must get into modeling and I thought that was a good chance. I guess I was naïve. Today, I have a very different take on such shows. We all learn and change with time."
I can see how time and experience has changed her through her eyes. Shaunak sir is right about her eyes.
"What kind of actors do you look up to?" When somebody is this brilliant you definitely want to know whom do they follow.
"Shaunak Vyas for sure! I worked with Yash Soni in two plays and that guy is brilliant. I watched Welcome Zindagi and couldn't stop praising Soumya Joshi. Then there is an actor called Ragi Jani who is great! In Bollywood you know I am a huge Shah Rukh Khan fan."
"No female actors that you like?" I grin while asking.
"Most of them are busy getting objectified. And then it's more like I like an actress in one film and not in the other. I cannot put my finger on one and say okay she's good across five films." She reasons.
"Was it ever difficult at home to choose the film line? You know how it is with family and parents" I gently tread towards the difficult arena of being an actor.
"My parents have been extremely supportive. Half of my aunties wanted me to become a model; I am an actor today and they are more than happy. I had a 100 of my close friends and family members sit at aisles and on the floor during my play Koi Pan Ek Phool Nu Naam Bolo To; if that is not support I don't know what is. But of course there are people who have taunted my parents for my work and my late night shifts. Eventually they are the same people who will cut out my pictures and show around claiming to be my best friends. That's how some people are." We laugh and I see a certain sense of confidence evince from her body language.

"

How do you perceive Gujarati cinema?

"
She takes a deep breath and answers. "We need to evolve so much more. Gujarati cinema needs to move ahead with time. People perceive us as the chaniya choli wearing, garba dancing actors and that has to change. In Bollywood and everywhere else Gujarati actors take up a role where we are made fun of and we allow that. Look at South India and Marathi cinema for example. They invest, make the right films and entertain people. Show me one Bollywood movie that gets South Indians as excited about it as they are with their regional films. And then people come up with names like Gollywood; what the hell is that! We just want to make money and not invest in the production. We don't raise our standards. We need to get serious."
"What do you want to do for it?" I ask her.
"I want to actively change the face, feel and image of Gujarati films and theatre. And that will always be my priority. Even if I was to get into Bollywood tomorrow; I will pick a Gujarati film over a Hindi film if it has the right story and the team."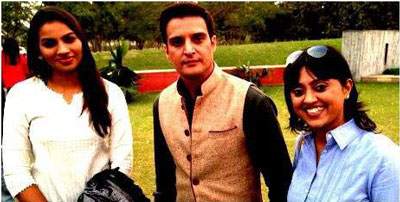 "How does it feel today when you look at your pictures in newspapers and have a facebook fan page?" That's wow, isn't it?
"It doesn't matter. A wiki page, a Facebook page, followers on Twitter, newspaper articles etc. nothing matters! When I am gone, if there's someone who looks at my work and feels I was brilliant; it's all that counts at the end of the day!" She smiles.
"What would you have been if not an actor?"
"A writer for sure! I already worked as a writer before. I want to write my book, but I am too lazy so I will ask someone to write it. Hey! You must write it!" she looks excited and I am stumped.
"

How has all of this affected you? And what's your next plan of agenda?

"
"It's changed me internally. I am now conscious of my expressions because I know a hundred people are watching me. The characters I play teach me how my issues are too miniscule to crib about. And there is no plan except that I am going to be associated with this field forever. Whether it's acting, directing, training whatever it is; I won't give this up. And I have a film coming up called Always Rahisu Saathe. It's directed by Yuvraj Sinh Jadeja and best part is Umang Acharya is the hero of the film. He's one of the most known faces of Gujarati cinema."
As I talk to her I realize that there is nothing this woman cannot do. From a crazy college girl, I see her today, after five years, as a confident actor. So much has changed, time has flown and she has evolved; except for one thing, her benevolence. Probably that's the difference between a star and an actor.