Man Distributes Free Buttermilk in Ahmedabad
This has to be one of the most kindest acts of charity in recent times that the city of Ahmedabad is witnessing each day. This man distributes free buttermilk in Ahmedabad only so that he can help people in some way to beat the heat.
It's not news to anyone any more that the mercury is on a consistent rise in the city. The temperature in the city was recorded at a whooping 48 which has been the highest in the past hundred years! Needless to say therefore that everyone's asked to stay hydrated and to take ample care while stepping out of their houses. It is especially difficult with the heat waves doing their dance in the city all afternoon (actually until late evening TBH).
Instances of people fainting and losing their lives due to heat strokes are on a rise. In a situation like this when people practically shut themselves indoors and choose not to step out until late in the night, there is somebody who has been thinking of the less fortunate.
Meet Dinesh Gupta, 44, a resident of Naranpura area in Ahmedabad. Gupta, a land developer by profession, started the noble act of distributing free water to people in the city three years ago. But in the process he noticed many deaths due to lack of water. He also saw how people were often dehydrated and would faint. Therefore this year, Gupta decided to do something different. He is giving out free buttermilk to people in the city this year as he believes that it is the best remedy for heat strokes.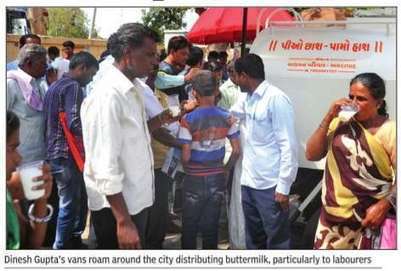 Image Source
One of the other primes reasons for distributing buttermilk is also the fact that labourers cannot afford it and this will help them beat the heat. TOI asked about his reason for doing charity and this is what he has to say,
"I used to see policemen, salesmen and labourers working on street under the direct exposure of sun. I also witnessed some cases where people fell ill or lost their lives due to dehydration, while they were working in extreme heat. So, I thought of finding a way to quench the thirst of people."
Gupta has five mobile "Chhaas distribution vans." He distributes about 1,000 litres of buttermilk that costs him Rs 20,000.
The vans roam around everywhere in the city and especially stop at points that have a lot of labourers. He started in April and will continue to distribute buttermilk in the city until the rains arrive.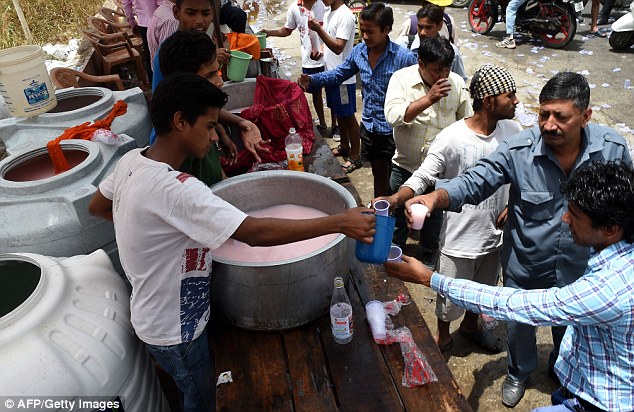 Image Source
Man distributes free buttermilk in Ahmedabad has been the title of several cover stories lately on news channels. It is just heart warming to know that amidst all this heat-y mess, there is someone who gives true home to humanity.
News Source
Cover Image Source