Shirin Khambholja, A PAN Am Flight 73 Survivor 
I have known Shirin aunty only formally until this moment when my partner told me that she was on the flight in which Neerja was shot dead. I just knew I have to speak to her about it and that was that.
Today, as I watch her settling on a couch before me in her living room, there is a certain sense of restlessness and nervousness that I cannot flick away. Up until this moment my brain had been racing through a list of questions that I wished to ask her, but right here, at this moment, when she is finally smiling at me, I feel my unsettled nervous interfering with my speech. That's when I realize that I probably don't want her to narrate her story to me. After all, scars have a tendency to grow back into injuries if one scratches them too much. I didn't want to look like the cruel reporter who is only there for the "story" and doesn't give a squat about what she must have been through. She was 23 back then; only about 15 days elder to Neerja Bhanot. I cannot begin to fathom what narrating the incident or watching the film will do to her, but I put all of it aside and convince myself that this needs to be told to the world. After all, it isn't a story; it's her life and how she lived it thereafter.
"

Where were you heading to that got you to board Pan Am flight 73?

"
I ask her hesitantly.
She smiles and begins to narrate what I can only call a depiction of unflinching courage.
I was a dancer back then. We were a team of nineteen dancers who were on our way to the U.S.A for the International Folk Dance Festival. We had booked our tickets, but they weren't confirmed. When we reached the airport, we were given confirmed seats, but the 19 of us were scattered. Perhaps you don't know this, but Ahmedabad had the largest group of travellers on that fateful flight.
I have lived in the city all my life and I didn't know this at all! I drink some water to prepare for the next question.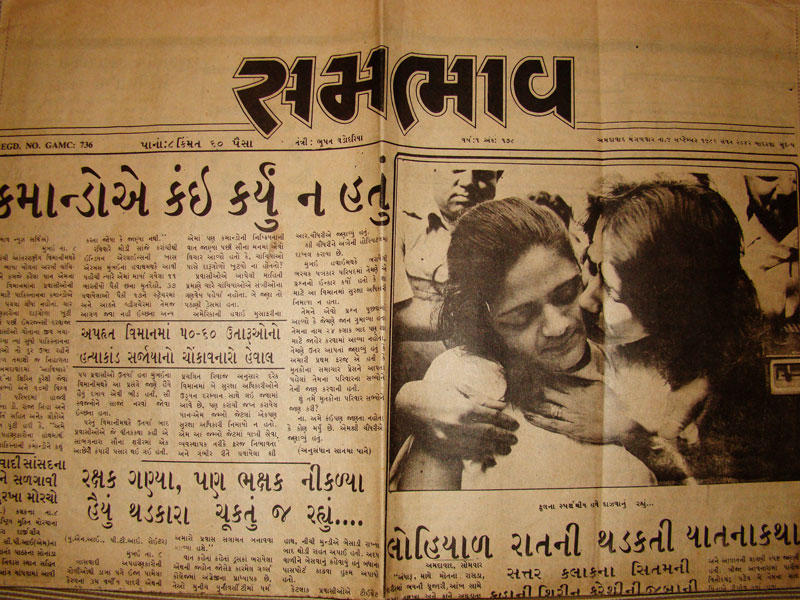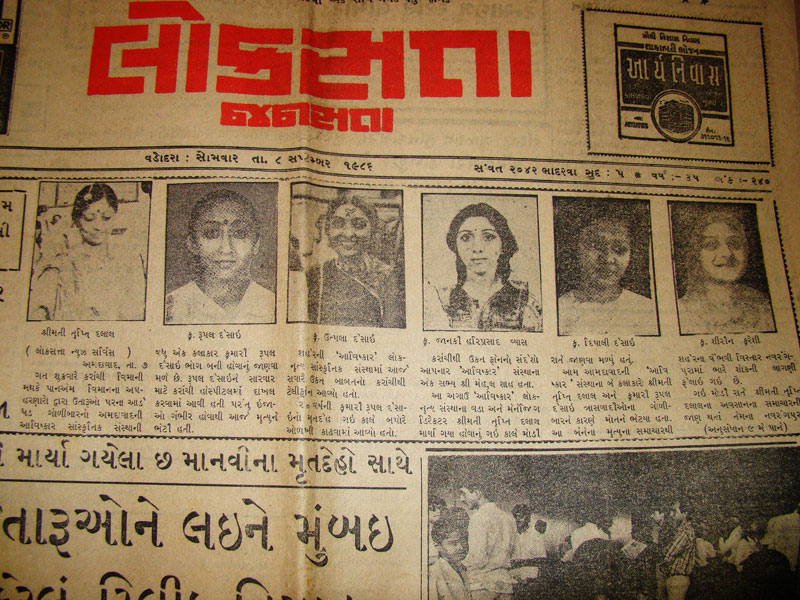 "How did it all begin?"
I can feel my nerves fretting over.
We were at the Karachi airport. My seat was quite close to the cabin area when one of my troupe members asked if I could take her seat as she wanted to sit with her friend. I agreed and headed back. While we were waiting for the passengers from Karachi to board the flight, all of us couldn't take our eyes off Neerja. She was just so beautiful. And it wasn't just about her looks; there was something attractive about her personality. She just looked very pleasant.
"Go on," my partner tells her.
I was too tired with the journey so I went back to my seat and slept off. It must be about six in the morning when someone started waking me up by the shoulder. When I woke up, I saw a man with a machine gun standing over me and saying "Hands up and Move"! I couldn't comprehend what was happening. My team leader was seating next to me. She informed that the plane has been hijacked and I need to do whatever the hijacker says. We were all brought to the centre of the aircraft so that it is easier for them to control us.
"Everyone must have panicked!"
my partner exclaimed.
On the contrary, we didn't!" she said. "We had heard of news of hijackers and how they would take aircrafts to different countries. In fact, I remember telling my friend that I hope they take us to Switzerland. We weren't serious about things initially. By afternoon they even allowed us to put our hands down and we were quite relaxed.
I didn't expect that answer at all!
"What was Neerja doing when all of this happened?"
I couldn't see. I exchanged my seat with a friend. I was far behind and had no idea what was happening in the front or in the cabin area for that matter. But we did guess that the pilots had escaped. It is what they are taught. The cabin crew presses the danger button and the pilots escape from the cockpit, no matter where they are! That way the hijackers cannot take the flight wherever they want to because they don't have a pilot. Later on I came to know that Neerja had pressed that button which is why we never took off from Karachi airport. She was very alert. She took away the passports of American citizens to save their lives. The hijackers wanted to take the aircraft to Cyprus. They asked for the release of Palestinian inmates in American jails or they would fly us to Cyprus. The government was negotiating with them and it was taking long.
I am horror struck by this point; the tension, the nervousness, the unsteady future, the fear of losing your very own life or that of your friends; it was all there surrounding her and engulfing her in its evil power. And yet what she did to survive is exemplary of the massive courage this lady has.
"When did things start getting serious?"
my partner asked.
It must be after it got dark. The fuel was over and the hijackers looked like they were waiting for the right moment. They asked us to put our hands back up. They were in every corner of the aircraft. They said something in their language which sounded like a prayer. Before we could apprehend what was happening, they opened fire. Everyone started screaming. My teacher was shot in her head; I was sitting right next to her. Amidst all this chaos the crew members and several passengers close to the emergency exits displayed paramount courage and opened the doors at the cost of their lives.
We listen to her intently not wanting to interrupt her at all.
My t-shirt was soaked in blood and I jumped out of the emergency exit on the aircraft's wing. It was a jumbo jet. The wing was 25 feet above the ground. I saw several people lying flat on their faces on the runway. I wanted to survive and so without any further thought I jumped off the wing. I was wearing high heels; those broke. I fractured both my legs. And with all of that, I ran. I ran for about a kilometre without looking back. I survived. That friend of mine who exchanged her seat with me; she was shot dead too.
She wells up.
I could feel my heart in my mouth and a huge lump in my throat. After some much needed silence I gently ask her how does she feel about the movie? Her younger daughter Tanya is one of the Assistant Directors (intern) of Neerja. Talk about life coming to a full circle. She tells me how it is a bitter sweet feeling. It is turmoil of emotions of course. Watching that horror coming alive on screen isn't going to be easy on her. She tells us how she went numb for two days after she visited the set of Neerja.
"How long did you take to recover thereafter?"
I ask her.
"I started travelling the very next year. My father believed that it is the only way to recover. We must face our fear and kick it out. That is what Neerja is all about."
She smiles as she signs off.
Like they say,
"Courage is not the absence of fear but the acquired ability to move far beyond."
Warning: This article is registered under the Copyright and Infringement Act. No part of this article may be used, reproduced, reused or turned into any other form of media without the permission of the owners. If any such action is reported to the owners, they have a right to take legal action against you/company.