I sit anxiously at Chef's Pizza with my partner. I notice the walls have turned into a shade of green now from the pale yellow they once adorned. It's been a long time since I last saw this place. I keep looking at the menu and salivating, but I hold my taste buds. And while I am struggling to do that, I see Kamil bhai (Kamil Saiyed – The creative genius behind Chef's Pizza) walking towards me with a big smile on his face.
"Bahot waqt ke baad tujhe mila. Kesi hai" (I am seeing you after a long time. How are you?)
"Badhiya", (Doing well) I answer thinking how comfortable this man makes me feel within a minute.
I ask him how it all began; he smiles and narrates his pizza fairytale to me.
"12 years back, I was in London on a student visa. I didn't know squat about cooking. Tea is probably the only thing I could make. The food industry was absolutely alien and not a part of my thought process. I started working at a food joint in London when it all started drawing my attention. You know these Lebanese and Saudi Arabian people would walk up and ask for flavours and ingredients that were closer to what they would cook back home. That's when it hit me. I began dreaming of opening my own take away joint and serving people."
I listen to him in wonder.
"I see that you haven't ordered something. Try our seekh kebab pizza." He says.
"No Kamil bhai. We had dinner. And seekh kebab pizza sounds new!" I exclaim.
"Ek seekh kebab daal (Prepare one seekh kebab pizza)", he orders. "I am planning to introduce it soon. You get to taste it exclusively", he says.
I smile. "So what happened next?"
"I got home and started following my dream passionately. For a guy like me who couldn't differentiate one ingredient from another, I started baking my own pizzas. It was extremely difficult in the beginning. I used to read books, watch videos in order to bake that perfect pizza. I have baked my pizza in every possible vessel you can think of. From ovens to microwaves to pans, I have done it all in my quest for perfection."
He looks at me.
"Go on", I say.
"Let me tell you my pizzas were horrible initially. Most of them would end up burnt, raw and absolutely bland. I have cursed myself after tasting some of my pizza sauces. I pity my friends who had to keep tasting all of that for me."
His friend, Altaf Shaikh, tells us how he fell ill and was advised by the doctors not to touch another pizza! We laugh and Kamil bhai continues.
"We used to run tuition classes before. That place became my haven for trying out pizza recipes. After a year, I finally nailed my special Chicken Tandoori Pizza."
The waiter places a scrumptious, tempting, hot Chicken Seekh Kebab Pizza on our table. Adorned with chunky seekh kebab, button mushrooms, a dash of green chili and loads of melting cheese, it sits pretty on our table; inviting us to devour it without further delay.
"Start eating. We can continue this later," he says.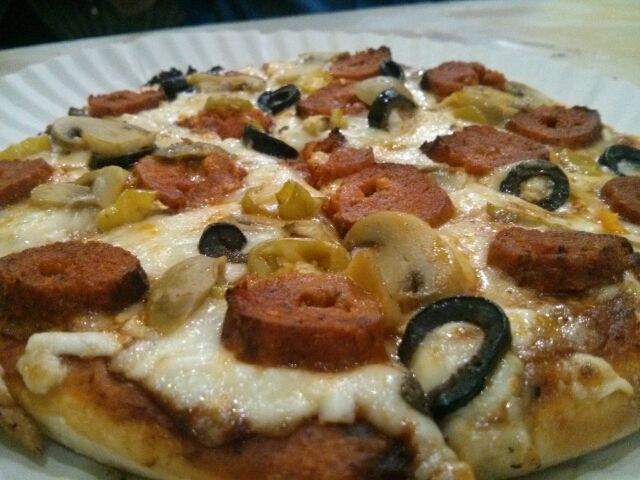 One bite and I have touched heaven. He gives me a tip on how to cook mushrooms to perfection and how to spot a perfectly baked pizza. He continues with his story then.
"I started a small restaurant called Pizza Station with a friend. It was horrible! There were days we wouldn't earn a penny. We had our differences and had to shelve it. I was extremely heartbroken and decided to pack my bags and leave for London. I opened a little take away opposite BJP office in Bhadra. My family and friends promised to handle the business after I would leave for London and just like that out of nowhere, my take away business became a huge hit among localities. After about five months, I bought this place and the rest is history," he grins.
"How did you come up with the name?" I ask
"My wife, Rubina, suggested it. We had thought of a lot of names but Chef's Pizza hit the right note. Altaf designed the logo and that was that."
"Ek jeera aur chaar glass la! (Bring a cold drink and four glasses)", he orders again.
"When I started out (he continues), pizza only meant Pizza Hut and Dominos. Things have changed now."
The pensive look on his face makes me ask him if that bothers him.
"It doesn't. I don't think I am a part of that competition. It takes place on the other side of the city and I am not there yet."
"What makes you immensely happy?" He is such a content man. I wasn't sure if he would be able to place his finger on to something.
"The fact that people like my food is extremely overwhelming. A lot of foreigners, Italians in particular, have left my restaurant with a smile on their faces. That's huge. It's important for me to interact with people who visit my restaurant. That's what makes this whole place so unique. I don't know how to be professional and that's what sets me apart from the others. I just want people to have a slice of my pizza and forget about all the other places that they have ever been to. My menu is the key to my success. One cannot find these toppings and flavours anywhere else. Who's going to serve you a mutton kebab on a pizza base, tell me?" he asks and we all start laughing.
As I leave his place with a box of my favourite pizza, I see a different man waving back at me now. May be pizza is junk, but if it's Chef's Pizza, it's soul food.
These are few of the comments who are a regular vistor at Chef's pizza
"Chef's is the only place in Ahmedabad, where each and every dish is better than the other, you can feel the love in every pizza and sandwich. The best dish is the chef's club sandwich."
–Parikshit Mishra
"I wouldn't name a single pizza, because I guess that will be like cheating on other pizzas. I can close my eyes and eat every pizza that they present, because they always get it right !
Their garlic bread, let's just say I wouldn't be sharing and splitting it with anyone.
I don't eat spicy food, but ironically I have never had something as delicious as their Spicy chicken !"
-Yashti Bhardwaj
"This place can give you a variety of options and pizzas loaded with toppings like no other. One just can't get enough of it. Try out Chef's Pizza. I take the guarantee that you will love it."
-Mohit Asrani
"I know this place before it even started. It's only the bread from the sandwich that is bought from outside. Every masala for marinating the meat is all home made. It's absolutely fresh. Although it's a pizza place, Chef's stuffed naan is to die for."
-Altaf Shaikh
[td_smart_list_end]
You can check out their Facebook page for more updates about the same. You can also follow Instagram for  their yummy delicious food photography