Mirande The Singer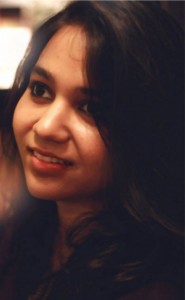 I remember sitting in the class with my friends when I saw Mirande Shah walk in. I was stumped and just like most students I couldn't stop staring at her.
"Isn't she that singer from Star Voice of India?" my friend had asked me to which I had nodded frantically.
Soon enough she was introduced by our professor as a student of our batch. Later, I walked up to her and said "I am a big fan!" like some kid who just saw Disneyland. She smiled, thanked me and left. Mirande has been a dear friend since then and five years later today, I sit in her apartment talking to her mom while I wait to interview her. I feel composed given the fact that I have known her for that long; my partner is all nerves today (he's meeting her for the first time). We talk to aunty about the music industry and how Mirande has progressed over the years and she walks in.
Nothing's changed about her. She gives me a bear hug, meets my partner and settles on the sofa.
"I cannot believe Mirande Shah is sitting before me and is this candid. How cool is this?!" My partner blurts out. Oh! He's seen Disneyland today for sure.
"I have always been like this. And 10 years from now if she's (refers to me) going to call me; I will be the same", she beams.
"When did you fall in love with music?" I ask.
I see the absurd, almost indeterminate look on her face and I wonder if I have asked the right question.
"This is difficult", she confesses. "Since forever, you know. I never took it seriously when I was young. I used to sing for every single emotion I felt. I was a national swimmer back in my school days and was passionate about it. I remember making excuses before my guru (music teacher) and heading out of my house. My relationship with music is that long; I just cannot put my finger over a timeline and say there, here's when I fell in love with music."
"So when did you start taking it seriously?" My partner asks.
"It must be after class 10th. While everyone else was busy picking what stream to choose, it hit me that I couldn't swim all my life and music is a natural gift I had and I was wasting it. It was my calling. When I got serious about it and started learning, my guru told me about Star Voice of India and asked me to audition. It was essentially to check where I stood amidst a hundred other talented people in the country."
"Did you have the slightest notion that you could actually get through?" I always wanted to ask her that.
"Not at all! But you know
when I have to prove myself, my confidence doubles up automatically
. My guru was actually counting on another student he thought would definitely get through. Instead, I did. I was awestruck with the kind of talent I was competing with. I had to prove myself again and I did." She smiles.
"How was the entire experience of the reality show?"
"It was both positive and negative. While I was there and listening to my co contestants, I realized the kind of energy and effort these guys had put since childhood into singing; I, on the other hand, had just started learning and was there on the stage. It just dawned on me that I had to learn so much more. I was good, but I knew I could get so much better."
"Which is your personal favourite episode?" My partner asks.
The episode I was voted out of was my favourite. It's a bitter sweet memory. I wasn't keeping well, but that day was a parents' special episode so I put in all my energy and performed. The judges loved it.
"Aunty was taking to us about how every contestant from the show settled in Mumbai and literally rolled in money. The fame was at its peak, everyone wanted you; Mumbai was waiting with open arms and you just walked away from all of that and returned to Ahmedabad to continue learning music. That must have taken immense courage. How did you manage that?" I ask.
"You know I love it every time I am asked this question," she beams, "Like I mentioned before, the show was an eye-opener; I had a lot to learn. I was just 17 back then. All of us (contestants) were dripping fame and we were given strong contact numbers and references in the industry and otherwise. Concerts seemed like a big deal, but then the growth stops. You cannot evolve as a singer with all of that. I wanted to learn proper classical music and finish my education as well. Most people thought I was crazy for the kind of choices I made. They bogged me down. But they didn't know how I felt while I was at the competition. I was genuinely intimidated by all the other singers. I knew I had to return to my roots and learn."
"How were things when you got back here?" my partner asks. We were sure she must have been showered with praise and mind numbing concert offers. We were right!
"While I was back in Mumbai shooting for the show; I didn't realize the kind of fame I had invited back home. I received calls and invites from several companies for concerts etc. Initially I did it for the kicks, but once I started college; I started looking for gurus."
She looks at me, I nod and she continues.
"Susan madam's Macbeth classes back in college actually drove me to question myself and what was it that I really wanted to do. She put me in that zone where I realized I had to discover myself through music. I went to Saptak and heard all the singers. I heard Kaushiki Chakrabarty and felt an instant connection with her. So I asked her if she would teach me and she wasn't sure initially. She is just 34 and carving her own career. Plus, she teaches kids. I was a grown up asking her to teach me classical singing. She took me in as a challenge. It was a learning experience for both of us. She had never taught an adult and I learnt more than ever. I shifted to Kolkata and learnt from Kaushikiji for almost three years."
"You were in Kolkata? When?" The questions leave my mouth at a bullet's speed.
"I had informed you about it once when we met at college. I stayed with Kaushikiji in her house for a year. It was an entirely different world there. It was extremely disciplined. Thankfully swimming had trained me into a certain routine and therefore this wasn't as difficult."
"How do you see music now?"
I always believe that music is a form of prayer to the almighty and it's pure
. "All of us develop both ways, on the inside and on the outside. The training in Kolkata helped me evolve inwards. Fame is something I am never looking for, but I got a lot of it at a very young age. I had to undergo a lot of psychological changes during my training with Kaushiki
ji
. I was told I must never do a chorus or take up a project that involves back vocals. On the other hand, Kaushiki
ji
asked me to do just that when she was invited at Coke Studio. She taught me how music is beautiful and must not be limited within a certain boundary."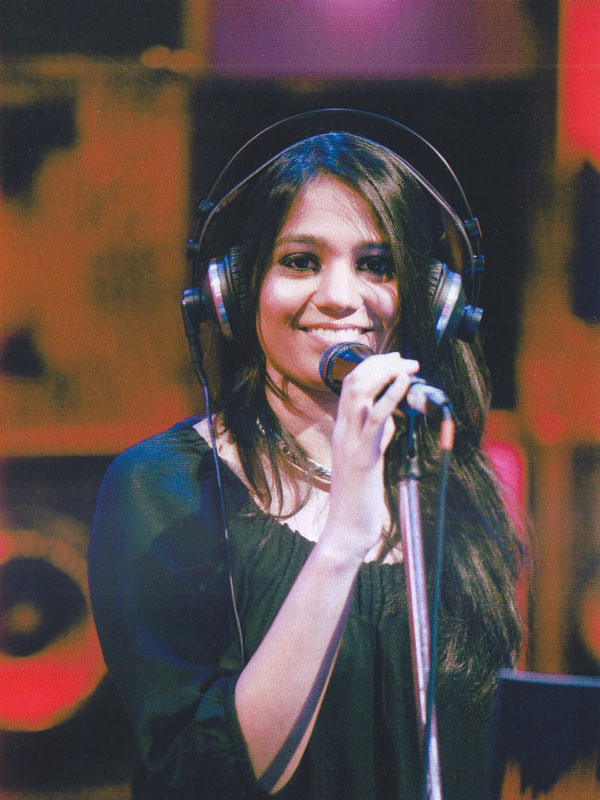 "What does the future hold for you now?"
"I think I was really naïve during Star Voice of India. Now I have goals for the next five years that I want to achieve. Project Dosti has given me something in terms of music that I always yearned for. I didn't want to be the artist who travels to the U.S and sings garbas. I wanted to be so much more than that and Project Dosti offered all of it and much more. I feel I am genuinely ready for Mumbai now. I sing songs for Gujarati films as well. I write a lot of affirmations and I learn every day. I can feel the change in the way I perceive music now."
Despite of all the fame and love she has earned in all these years, she is one of the most humble artist and friend I have known for real. May be that's why I don't like binding her within the chains of terms like Singer, Artist, Vocalist etc. She's so much more; will always be!
You can follow her Facebook Page or Twitter