Sweta Roy Owner – Bombay Street Cafe
Bombay Street Café has been on my checklist for the past two years. Unfortunately, I was never able to visit it until now. As I walk towards the café, the aroma of delectable paav bhaji beckons me. I can feel my partner and me almost rushing to the door and then freezing right there.
"Is this the kitchen?" he asks me as I stand there staring at the open kitchen.
"I think so. I have never seen something like this before. That paav bhaji is making me hungry and I just had dinner." I answer while I still keep staring at the various counters where everything is happening at twice the speed. It's the opposite for us. We are there watching mouth watering butter-y dosas being made in slow-motion; I wipe away some drool stuck on my mouth and enter.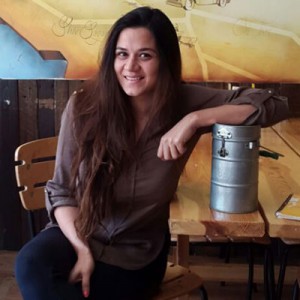 While we wait for the owner Sweta Roy, my partner and I talk about how having a kitchen outside actually works because it builds a trust with your clients. For all those who have issues with kitchen cleanliness, visit this place sooner than soon. The ambience is like a little piece of Bombay set in Gujarat. From the iconic dabbas to the way the walls are done; the place breathes Bombay in and out.
Sweta settles on a seat before us and sets in motion one of the best interviews I have taken by far (trust me). We start off by talking about our common friends, Mumbai and food in general. Sweta has something insanely "chill" about her. I cannot put my finger on it, but the girl's body language makes you feel comfortable within minutes of talking to her.
"When did you fall in love with food?"
I ask her.
It's not just food. It was the area of hospitality that beguiled me. I really wanted to do something in the hospitality sector.
"Is that what you did back in Mumbai?"
"No. I was an investment banker at HSBC in Mumbai. But I did concepts for Silver Beach Hospitality. Whether it's a bar or a restaurant, I have 'been there done that' and that helped me satiate my need to be around this sector."
"

What brought you to Ahmedabad?

"
My partner asks.
Marriage. My husband is from here. He was in London for quite long before he got back here. I stayed in Mumbai for a year after our marriage visiting Ahmedabad during the weekends only, but ultimately I moved here and took up a job with CiTi bank.
"What got you to venture into food and hospitality in a land almost alien to you?"
"It was the lack of good food places. There weren't too many good places out here when I arrived. One day I was talking to Vijay Agrawal (the owner of Honest restaurant) and I told him how I wanted to start my own food stall someday. He had a space at Law Garden that could accommodate about 8 tables. He knew I had done concepts for Silver Beach; he trusted me. The next thing I know, I am working at the bank until evening and then standing at the stall until late night. I began Bombay Street Café in Navratri, 2013."
"Was it difficult initially?"
"Oh! It was terrible. I made 420 bucks on the first day. I thought this is it; I am a loser. My last day's collections were twenty six thousand!"
she shares.
My partner and I keep staring at her in awe. It's almost like she's told us that she is the woman behind the mask in Catwoman! The tremendous jump in her earning in less than 10 days stands proof to the quality food she's been serving.
"What happened after that?"
I ask.
"Actually I want to let you know what happened during that time."
"Go on."
"It wasn't easy. Law Garden is full of goons! I was harassed and people warned me over and over again to bring down my stall. I wasn't there with an intention to break anyone's business; I just wanted to serve my food that's all. It took quite a while to settle that issue. My stall is still there at Law Garden."
"

Did your husband or family ever have an issue with what you are doing?

"
No. I had all the liberty in the world to pursue whatever I wanted to. The issues at the stall did bother them sometimes primarily because they were worried about me. Other than that, I wasn't ever questioned for walking in late at night after a tiring day at the stall.
She talks about how she left her job in two months and focused only on Bombay Street Café. They bought this place immediately once the response started building up.
"I am really intrigued to know what got you rolling this well in such a short period of time. Given the fact that you aren't from here; it must have been challenging to make your own space." I ask.
It still is. You don't know the kind of clients/customers I have to deal with sometimes. They won't pay, will only send half the money for the bill. It grows on you every single day. But two things helped me a lot. The first one is catering. I have done over 450 caterings until now. From Modi's rallies to VIP functions, you will always find my food there. The second being the kind of clientele I built here. It's very difficult for an outsider to do that in an alien city, but I managed to build my network quite well.
"Are the cooks from Bombay?"
my partner asks.
Obviously! They had stalls in Mumbai opposite schools, colleges etc. I brought them here. They have a better life here. I have provided them with an apartment and they can save better by working in Ahmedabad.
I am still processing everything that she just said. I am yet to come across a restaurateur as passionate as her. Bombay Street Café now has two other branches in the city.
Sweta informs us how the Prahaladnagar branch had rape victims as workers there. She arranged for a pick up and drop service for the girls too. Plus, they were allowed to leave in the afternoon so that they always felt safe. The girls left eventually; it's difficult to get back to life after what they had been through, but it's so inspiring to know that Sweta took the crucial step of trying to make them financially independent.
That moment just changed the way I will look at Sweta and Bombay Street Café forever.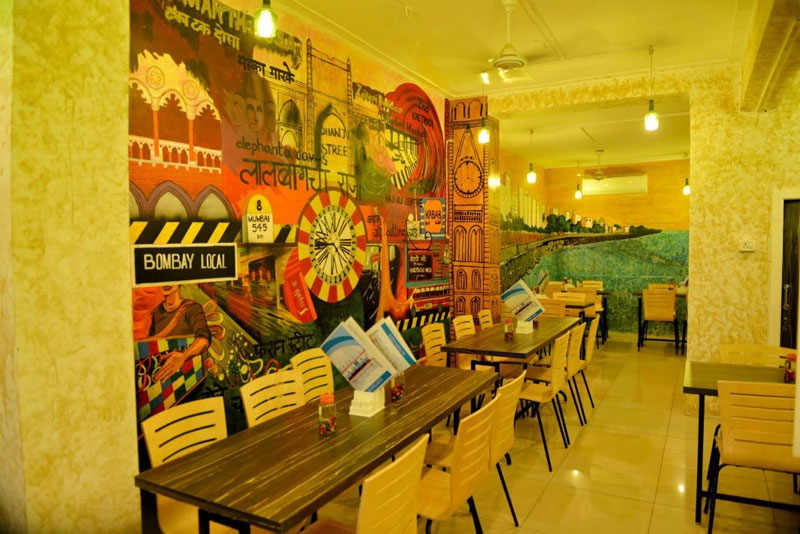 Image Source : Bombay Street Cafe (Facebook)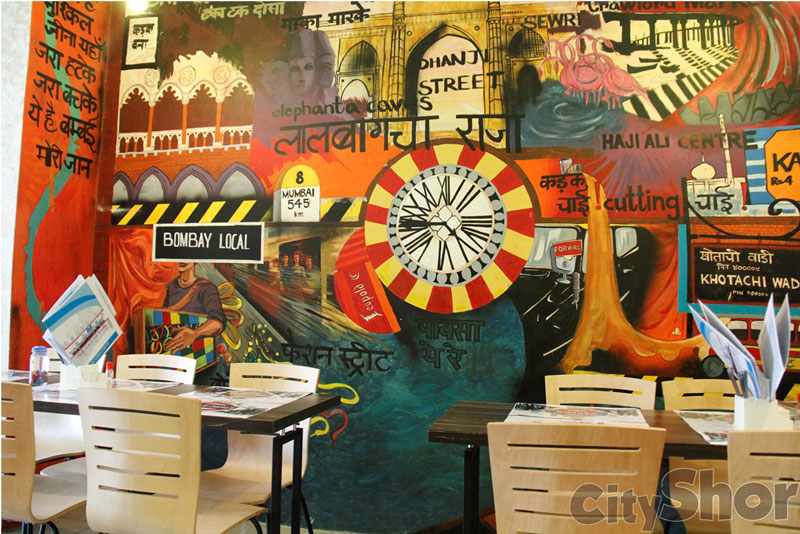 Image Source : CityShor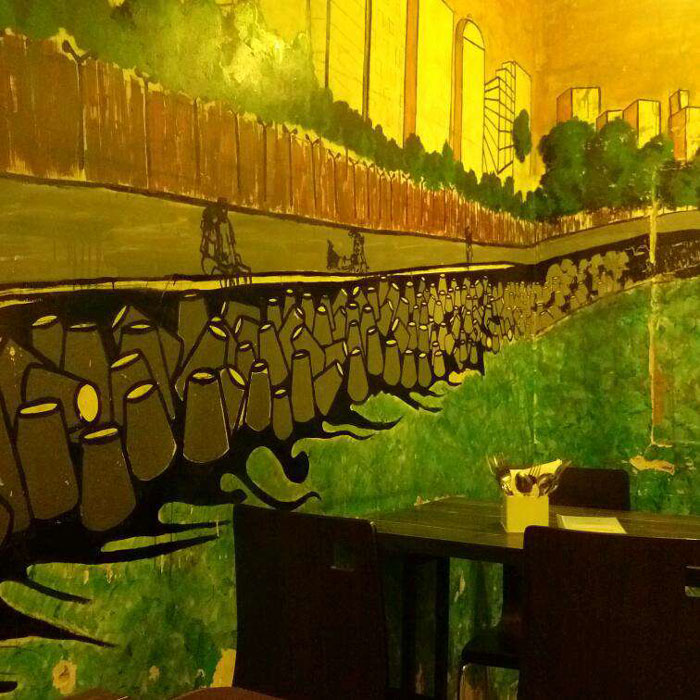 Image Source : Bombay Street Cafe (Facebook)
"What's the plan now?"
I ask.
"I want every tourist spot of the world to have a branch of Bombay Street café. I know I can do it and I am in talks with a few people for international ventures. I just want my brand to grow."
"Are you a good cook?" My partner asks.
"No. I cannot eat something and derive whether the salt is okay or not. But I can run the show." She smiles.
I walk out of the café with a huge grin. Sweta is kind, hospitable and an absolute darling, but more than that she is a fantastic human being, she has inspired me in ways I cannot express. Her Bombay Street café is a wonderful gift to the city of Gujarat.
P.S: I didn't write 1/4th of what I have written here; courtesy the fun conversation and the lip smacking food. Tip for every writer; when the table is loaded with dosas and paav bhaji from Bombay street café, EAT! Writing can wait 😉
Food Images Source