Fozzie's Pizzaiolo
On the outside, it's a regular Wednesday evening with everyone returning home, tired and drained. Inside, it feels like a crazy weekend. Here I am, standing right in the middle of Fozzie's Pizzaiolo on a weekday and not believing my eyes! It's packed! The staff politely leads me and my partner to a table and we settle in.
"I think it's going to be difficult today," I tell my partner. "With so many people around, I don't think he has the time. We need to reschedule." I sigh.
"Let's wait! And let's eat while we are at it!" He starts looking at the menu.
The place is buzzing like a crazy Saturday night with people pouring in every 10 minutes. And there arrives the scrumptious chicken lasagna. One bite and I know why this place is so popular among localities.
And then while I am devouring the lip smacking lasagna and pizza; I see Parth Fozdar smiling at me while he is talking to the waiter.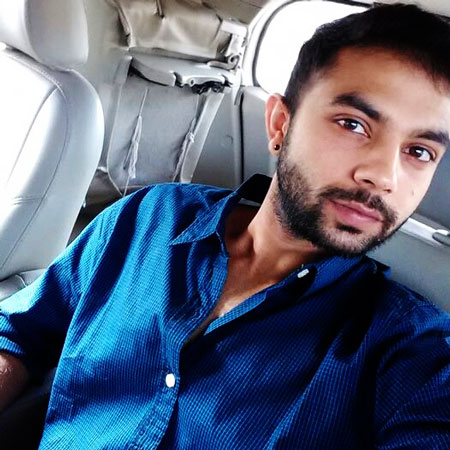 "Hi! It's been crazy today!" he says.
"I can see that! We can talk some other time and this lasagna is to die for!" I say.
"Thank you and we are talking today. Give me a while."
I see him walking up to the people who are busy stuffing their mouths with pizza slices and talks to them. I see him recommending some dish somewhere, shaking hands with people and humbly thanking everyone for the compliments. That's a sight I don't usually see at restaurants in the city. He pulls up a chair and starts talking to us.
"When did you fall in love with food?" I ask.
"I was always in love with food. My parents are fantastic cooks. My grandfather owns a restaurant. I guess I was very little when dad brought in some food from a restaurant when he arrived home. The smell made me smile. It runs in my blood!" he smiles.
"This place is beautiful! The soft colour, frames, the setup, did you design it?"
Fozzie's Pizzaiolo Ahmedabad
"My mother and I designed it. You know I went backpacking in Switzerland and there I stayed with an Italian couple at their place. This place's design is inspired from what their place used to look like. It's pretty much like that actually."
"Wow! That's brilliant!" my partner exclaims and I am just dumbfounded at the sheer concept of it all.
"So you weren't working here?" I ask.
"No. I took admission in Manipal University for biotech. The next day I woke up and asked my father to transfer the fees for a course in hotel management! Then I was in Switzerland. I have cooked for Roger Federer."
"What? Did you say Roger Federer?" my partner asks. "What did you cook for him?"
"He loves Indian food. I cooked some butter chicken and biryani. I don't like cooking Indian cuisine to be honest. I know how to cook it, but I don't prefer it. The smell of the spices really gets to you." He says.
I am in a shock all this while. This guy is 24 now I don't know how old he must be when he cooked for this legendary tennis star. The kind of career goals this guy's given me!
"How was life at Switzerland?" I ask.
"We used to fly," he says. "We had a swimming pool at the place where we stayed and we used to prepare food there for people. Every day we had a minimum of 1500 people visiting and eating there! It was crazy! I was quite fat back then and lost a lot of weight at that time."
We laugh. Even while he is talking, His eyes are always following his servers. He keeps checking if things are okay. This lady sitting at the table next to ours uses a tissue to clean her plate. He immediately asks his server to change the plate for her. Like I said, this is rare.
So how and when did you start Fozzie's? And what's the story behind the name?
"It was all of a sudden. I was supposed to go to Canada and my visa got rejected. I had already wasted a few months because I was sure that I would leave for Canada. And then it just didn't happen. I used to work at Silversands Holiday Resort in Goa before. And now with the visa getting rejected I started this place. People have always called me Fozzie and I didn't know what a Pizzaiolo means. I read an ad that said 'Wanted a Pizzaiolo.' I googled it and learnt that it meant a man who makes pizzas."
"So many speed breakers in the way huh? Was it difficult?" My partner asks.
"Yeah it's funny. On the second after I started my take away, I only sold six pizzas. Just six! It was quite Frustrating. It started building gradually and I bought this place in a few months. I have never marketed my restaurant. I want to now. I have a strong set of family and friends and all the popularity that you see now is all word of mouth. Nothing else." He smiles.
This guy has a 4.5/5 on Zomato. People absolutely go gaga over the pizzas he serves. But I know that criticism and sometimes baseless criticism is always a part of this.
"How do you take all this rating and review stuff?" I inquire.
"I used to read a lot of that before. Now, my attitude has changed. You know, with all these apps and social media, every other person has turned into a food critic without knowing squat about food or ingredients. If it's a genuine comment about the pizza or the base, I definitely look into it and rectify. The other day I thought the base was too bread-y so I asked my chefs to rework on that."
"So what plans from here?" I ask.
"This place accommodates forty people for now so I want to accommodate at least 20 more. And some day I want to have my own food processing unit. That's the long term plan though." He shares.
"Women believe that 'A man who can cook is sexy'. What do you have to say about that?"
He smiles. "Yeah, I have heard about that. But my hands are full with pizzas!"
We laugh! He tells us about how he cooked his favourite bhindi ki sabji when he was in fourth grade, his first dish, how he has underperformed and served a raw beef steak because of work pressures and how he likes home cooked soul food with simple flavours.
As we leave, he gives us a warm handshake at the door. In a city like Ahmedabad, every other guy serves pizzas and yet this guy dared to do the same and excelled beyond the boundaries of success. It's because he puts two magic ingredients in his pizzas, LOVE and PASSION. And with these two, one can never go wrong!