Summer Vacations – Then and Now
90s kids are in for a lot of nostalgia! Over the years summer vacations and their concept has changed way too much. Nobody talks about field games or spending time with cousins. All that the kids want to do these days is stick to their iPads and cell phones and keep playing annoying online games. I Am IN posted a series of photos to show how the 90s kids enjoyed their Summer Vacations and what kids are doing these days. These images will not only make you nostalgic, but also shake you up to this insane world of internet and its obsession.
If you really want to check how summer vacations have changed and why the term "generation gap" is getting stronger each day; you need to have a look at these images. On one hand if you feel that technology and globalization have brought us this far; these summer vacation posters will make you realize how they have altered and changed childhood. While most of us may see this as progress, it will make you a little sad. Kids don't understand the concept of outdoor games these days. Televisions and computers are their only friends. The so called "progress" has ruined childhood and whatever was associated with its innocence. Have a look and you will know what we are talking about. a humble request, get your kids out the open as often as possible; they need to feel the thrill rather than focus on the virtual appeal.

Friendships have changed!
---
A game of 7 stones changed to Game of Thrones
---
Games have surely changed this Summer Vacation!
---
See how the meaning of "Slide" has changed. Deep!
---
And the idea of plucking fruits.
---
Or Kite flying for that matter.
---
Who doesn't remember this!
---
Fun Slam book days!
---
Poignant!
---
How much we fought for a Walkman, remember?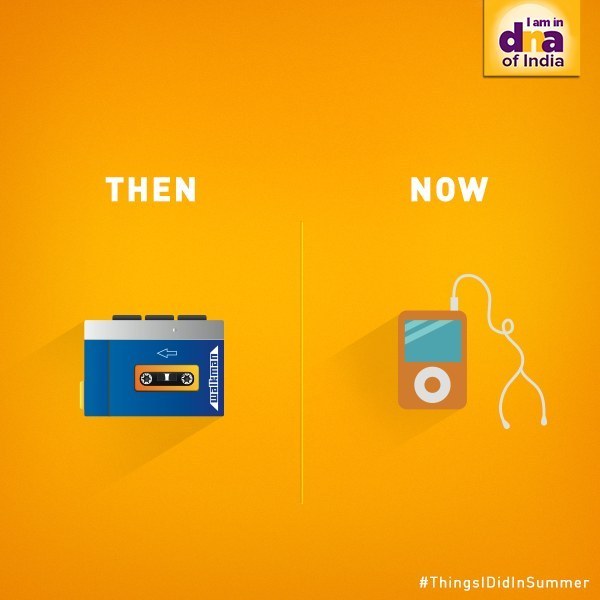 Summer Vacations have definitely changed these days. Nostalgia!
All images belong to I Am IN.
You may also like  Minimalistic Poster show Menstruation Taboo in India