Good Friends and Best Friends
Life without Friends is absolutely impossible. Like they say "Friends are the family we choose". But then, not everyone can be that best friend who is going to cuss you and not drag you out of trouble, but actually be the trouble in the first place. There will be friends who will be good and "nice" to you, but they will never be that loser who steals your T-shirt, rides your new bike before you have and will always be broke when you are hungry. You won't admit him but you love that one much more than those other friends who are actually sweet-er and nice-er. May be, it's because he/she is real and doesn't pretend about anything. He/she is your best friend.
We may now possibly be in a stage where we don't differentiate between friends, but there will always be that one guy/girl you will rush to when you are in trouble. They will laugh at your first and then fight the world to set things right for you. These images are an ode to that friend. He/she is the person you have lost and regained your sanity within minutes.
WittyFeed came up with these adorable posters that explain the difference between a friend and a best friend. Look an ddecide for yourselves who fits where.
1

A best friend is never polite.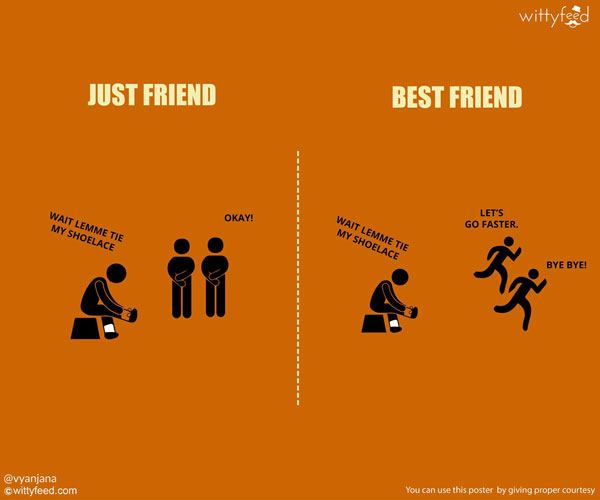 2
And he/she will screw your case when you need some help! They will help eventually, but will have fun at your cost first!
3
He is forever hungry and the refrigerator is forever empty!
4
And selfish! Actually a big sadist! Wait, he's both!
5
And a thief! LOL!
6
And knows you like nobody else does; which is a little scary sometimes!
7
A partner in crime, always!
Share it, tag your friends and let the world know how mad they are!
You may also like Hilarious Cartoons to Brighten your Day