F.R.I.E.N.D.S Thanksgiving Moments
There are several reasons why we aren't able to get enough of this show and Thanksgiving is one of the most primary reasons for that! We all wanted to celebrate thanksgiving Friends style; even if it was a little goofed up always. Here's presenting some of the most awesome F.R.I.E.N.D.S Thanksgiving moments in no particular order!
Let's start with the past.
1

The reason why Chandler hates Thanksgiving is embedded in this one question. "More Turkey, Mr. Chandler?"
https://www.youtube.com/watch?v=L9EFYnOSCjE
Source : FRIENDSadicts
2

When Monica tried to seduce Chandler with knives and carrots; dropped the knives and cut his toe!

3

When everyone's first Thanksgiving together sucked and they had grilled cheese. Thank God, this happened and we got our bunch of moments for the next seasons!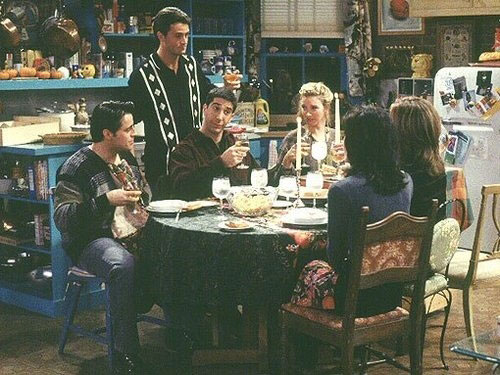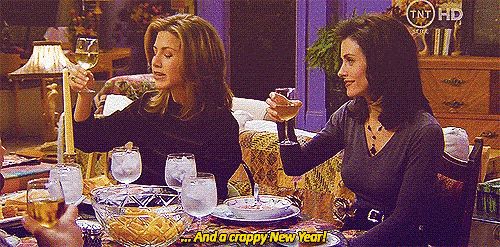 4

When Joey finished the whole turkey! RIP maternity pants!
5

When Joey became Mr. Turkey Head to scare Chandler and got stuck instead. Did you realize Joey and Turkey always have a story! True love!
6

When they played the most entertaining football! Chandler did the dance fighting with Joey for the Dutch girl and then they hogged food like animals! Not to forget the crazy competitive Ross and Monica!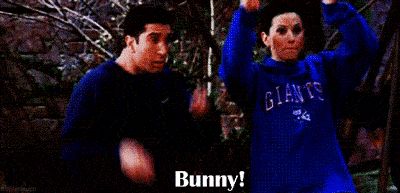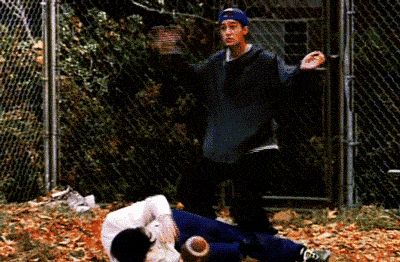 7

When Brad Pitt came over and stole our hearts AGAIN! Oh! And turned Rachel into a she-male! LOL!
https://www.youtube.com/watch?v=o-k_VR_Ppxk
8

When Joey gave Rachel the best advice on whether or not to make the move with her assistant!
9

When Monica shut everyone's mouths by saying this! And the whole Richard's son part was actually weird!
10

When everyone vented out their desires before Mr. and Mrs. Geller and all Mrs. Geller said was this!
Source : Mas2oo9
11

When Monica did the Turkey dance to make up to Chandler and then came our "aww" moment when he said he loves her!
https://www.youtube.com/watch?v=Orv_ic3acRw
Source : Eric Chen
12

That time when Ross completely lost control while trying to name all 50 states.
13

When Rachel had the most epic catfight with her sister and broke Monica's plate and Chandler joined the cause later!
https://www.youtube.com/watch?v=fkUoTnAJDkc
Source : Deepak Kashyap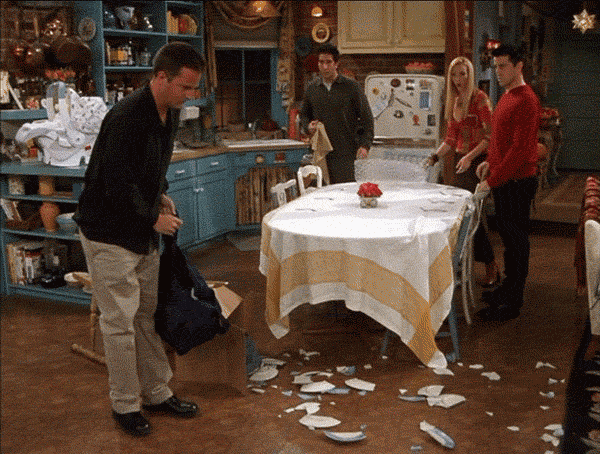 14

And amidst all of this they taught us that there is nothing more fun than enjoying the holidays and Thanksgiving with your friends! One last shot of all F.R.I.E.N.D.S Thanksgiving moments in one go.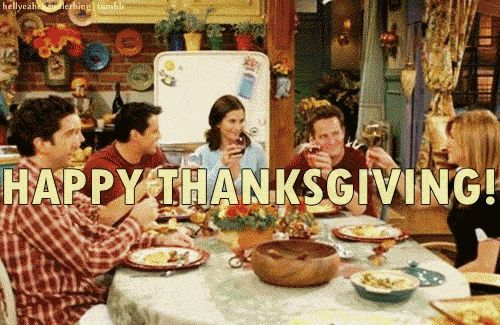 h/t: Buzzfeed.com
You may also like WHEN SECRETS WERE REVEALED IN F.R.I.E.N.D.S.