Vintage Greek Canvases Into Instagram Posts 
There was a time we would make time and visit art galleries. Whether it was a local one or one in a far away land we visited, but there was something surreal about being around those canvases. Are we saying it doesn't happen anymore? No. But the number of visitors have decreased, courtesy social media. If one can see most of it online why make the effort to go out? Okay that is point one.
Point two? Social media again. Everything is reduced to a wall post or an Instagram picture. It has become more about showing "I was here" than actual "Being There" in its true sense. Serial Kolor converted vintage Greek canvases into Instagram posts to critique that habit we are all addicted to. First up, it doesn't even give you the complete picture, just an iota of it.
We got in touch with the team that designed these creatives and this is what they had to say:
"We, at SERIAL KOLOR, are a creative agency, operating on interdisciplinary levels. We are passionate about telling stories – through integrating compelling designs, motion and sometimes live actions."
"We chose couple of renowned vintage Greek artistic creations and modified them with insane inscriptions and hash tags. We made it like as the first craftsman transferred those a very long time prior."
"How about we examine a percentage of the famous canvases from the times passed by and remember them in the light that they ought to have been initially seen."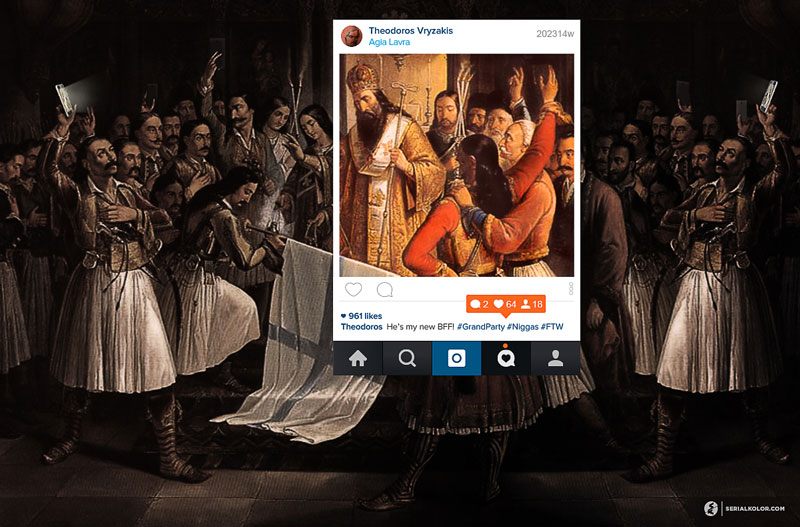 The thought is brilliant! Not only does it push us to go beyond social media and appreciate art and nature in its true sense, but also how sometimes we have forgotten to appreciate a piece of work. Our words are bound by hashtags today.
It's time to break the jinx!
What other vintage Greek canvases into Instagram posts or any other form of art would you like to see? Write to us.