Ki and Ka trailer
Ki and Ka trailer is here and we are more than proud! What a comeback Kareena and Arjun! All of us were quite intrigued when we heard the title first! What does it mean, where does it come from; we had no idea. But hell we do now! This is absolutely brilliant!
Ki and Ka trailer shows us every interesting, "twisted" and challenging take on the pre-societal roles for men and women set by the people. The guys have to be the bread winners of the family, the girls are expected to ditch their job and help the guy reach up the heights in his career. This one is the exact opposite!
What if a guy just doesn't want a career at all? What if the girl is ambitious and cannot sleep without cracking that business deal? And how would it be if they marry, live a perfect life together and nothing deters them from having fun? Society? That is going to complain always! But what Ki and Ka do here is not just unique (sad we have to say that), but just adorable!
It is high time we stop loading men with all the pressure and force women to give up careers after a marriage! Ki and Ka trailer is entertaining, sexy, hilarious and just a tight slap to anyone who sits with a book to define gender roles. We sincerely hope no one screws this up! Really! If the film turns into an ego clash of the sexes later on; we are going to be extremely disappointed. India needs films like these.
Fingers, legs and everything else that can twist in a human body has been crossed. Keep it light Ki and Ka because you guys are going great guns!
Remember, keep it light!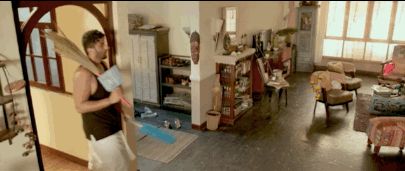 Cover Image Source
Watch the trailer Here