LATEST: Jon Snow Is Dead In Game Of Thrones, Get Used To It
How do we do this? At one stage reports lift us up and say that he is alive and going to be back. And right when we are sure it is going to happen comes a moment like this that ruins everything. Jon Snow is dead in Game of Thrones has been the buzz phrase for months. Then reports of Kit Harington hanging out on the sets of Season 6 raised our hopes. We thought, "Well, this can't be bad. May be he is alive after all!" And then all those fan theories that of proving why he CANNOT die kept our faith in the series and George R. R. Martin (we dare say!) intact.
Just when our hopes were piling up HBO released its first poster proving why we must hold on. And then this happened like a bolt out of nowhere. Jon Snow is dead in Game of Thrones comes from nowhere else but from Kit Harington himself! And now we are back to square one. Something does tell us that this could be the master stroke to keep us off guard, but damn it just hurts too much now!
Kit told Digital Spy that Jon Snow is very much dead, and that fans should "get used" to the prospect. They further asked him to comment on the reactions of the fans in the final scene of Season 5 finale and he said:
"I was hoping that there would be an outcry of 'why?' and 'oh god, no, no' rather than 'thank god'. That was the right reaction as far as I was concerned!"
"People didn't want me to die, but he's dead. So there you go, everyone has to get used to it."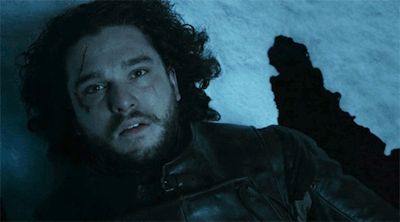 As if this wasn't enough, he gave further proof of his minimum involvement in Season 6. He said:
"I haven't done Thrones in a while. I had quite a lot of time off last year. I've been taking it easy. And relaxing. When I realized I was doing this, I had a few months to prepare for it, and something like this takes some working through before even getting into the rehearsal room."
He did appreciate the audience for all the love and support though.
"It's brilliant, the fact that people care about this TV show and what happens to the people they love or hate in it, is a special thing. I've got nothing to complain about, put it that way. If they care about it and I get asked about it a lot, it means that people hold it dear to their hearts and it's doing what it meant to."
We don't know whether we should believe this guy or not. He does sound pretty convincing though. This could mean two things:
Jon Snow is in fact dead and whatever shots Harington did for Season six could be a flashback
He is alive, but may not have a major part to play for Season 6 and might have a crucial role Season 7 onwards.
Hold on to the second one, guys! Rest we will only know in April. As of now we are not ready to buy that Jon Snow is dead in Game of Thrones!
*Sniffs*