Game of Thrones Creators D.B Weiss and David Benioff Talk About the Much rumoured Prequel Also Popularly Known As "Robert's Rebellion"
After the show's season six ended successfully (naturally shocking us with the very many deaths in the end), rumours are doing the rounds on the much debated, awaited but never-really-around prequel to the show.
Game of Thrones creators shared their thoughts on what they feel about Robert's Rebellion and whether it will ever happen. Their responses will leave you with immense hope, but also to make it clear, nothing has been even thought about in that direction for now. Here's what the brilliant show runners and co-creators had to say about a prequel film to this popular fantasy drama.
"One of the great things about what George [RR Martin] did is he didn't just build a story… he built a world, [There's] so many characters and such a rich detailed history behind it that there are a lot of different ways you could go with it."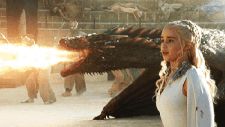 If this quote is anything to go by, there is surely some hope for all the GOT fans out there. But having said that, all of this will only materialise (if it does), after the flagship series ends in 2018. They are definitely not getting into anything else before that.
"We just haven't had time to really think through the details of it, because we're so focused on just getting the show made. This is such a 24-hour-a-day job. Once we start thinking about [any spin-off], we realise we have other things that are immediately pressing that we need to be thinking about!"
What we picked up from this quote is that at some stage they are thinking about it. And for now, that is a big relief. Given the way Game of Thrones creators understand the characters and the books (bringing in the colour of their creativity within it as well), we cannot imagine any other team taking over the prequel.
There is hope, people!
Image Source
Cover Image Source